Hiya all! I hope you are doing well today! :) When A Beautiful Mess first opened up their shop I was very excited, I love their design choices and their colors are always spot on so when I found out they were going to be making inks as well OH MY WORD I couldn't wait to try them out! I could see just from looking online that the colors were going to be bold and fun but you really never know until you get them in your hands to stamp them out! Well let me tell you they did NOT dissapoint, they are BEAUTIFUL in person and just so much fun to use on all of your projects! I also wanted to compare them to the color theory inks I have on hand as well and see how they compare. I decided to do a little color sampling and thought I would share with you just incase you were wondering some of the same things I was. I gathered up all my inks and grouped them by color.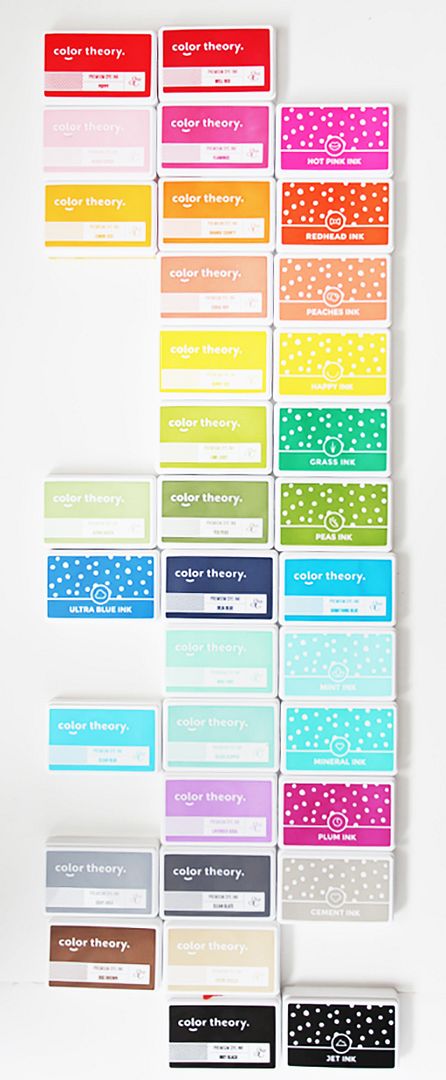 Of course to really see the colors you have to STAMP them ... right!? Yes I think so too so let's get to it shall we?
I tried to keep these colors true to what I am seeing in person so I didn't edit this photo in an effort to give you a true idea of the color. As you can see there are a lot of similar colors including the black, coral colors, yellows, and some of the blues. There are also a lot of colors in the messy ink that color theory doesn't have yet. I really love the hot pink and I think the cement is my favorite color from the messy inks. The plum is a lot of fun too and there is really nothing like it offered in the color theory line. All that being said I have had some of these color theory inks for a while and have yet to stamp them and now I wish I stamped them the moment I got them! I fell in LOVE with glass slipper and I think it may even by my favorite color EVER!!! All in all I think both lines offer some amazing colors, both stamp REALLY nice and both brands stack together to make for easy storage.
What do you say, what is your favorite color if you had to pick just one?!
go.be.inspired.
Shanna